sunday october 27, 7pm
Duo with Jon Toscano & Leila Adu
376 9th St, Brooklyn, NY 11215
NEW YORK
thursday oct 17, 7:30pm
DIVE DEEPER: GLOBAL IMPACT OF HIP HOP CULTURE AND MUSIC
Maimouna Youssef aka Mumu Fresh & Jason 'Timbuktu' Diakité moderated by Leila Adu-Gilmore
Harlem Stage
150 Convent Avenue
NEW YORK
friday september 27
Childrens Music Making Workshop with Alejandro VZE
Abajo Culture & Art Cafe
ACCRA
thursday september 26
Lucked In
Alliance Francais
ACCRA
wednesday september 25
Lucked In
Republic
ACCRA
sunday august 4
Terraza Monstruo – Impro 4
Partido Fundamentalista del Sonido (Leila Adu, Jacob Wick, Carlos Alegre, Misha Marks)
La Perrera Municipal
Revillagigedo 96, Azotea – Centro
MEXICO CITY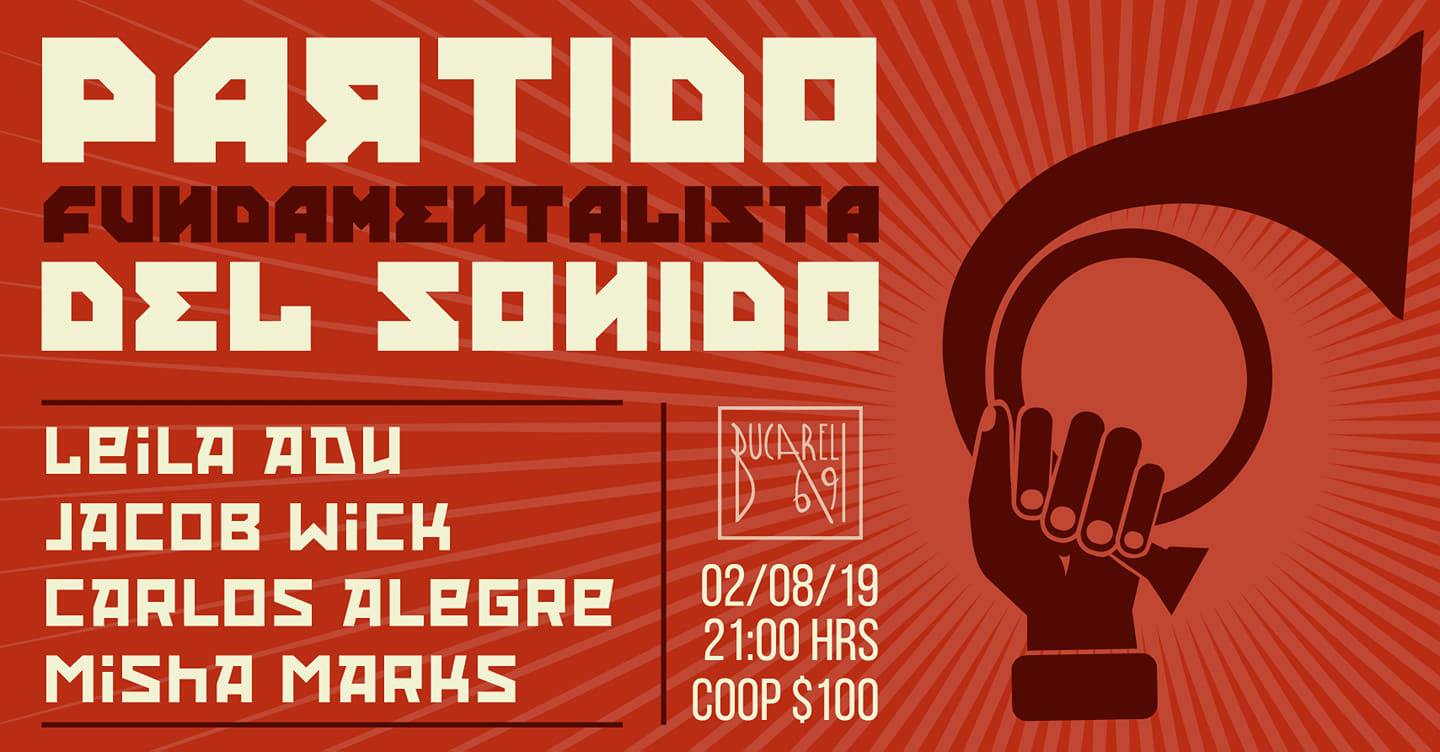 friday august 2
Partido Fundamentalista del Sonido
(Leila Adu, Jacob Wick, Carlos Alegre, Misha Marks)
Bucareli
69 Colonia Juarez, 06600 Cuauhtémoc
MEXICO CITY 
tuesday 20 novembre
Le Grand Salon Volant Festival
HOUDINI + PAULINE DRAND + LEILA ADU + CHRISTINE ZAYED + GORDA ENSEMBLE
Petit Bain
7 Porte de la Gare
PARIS 75013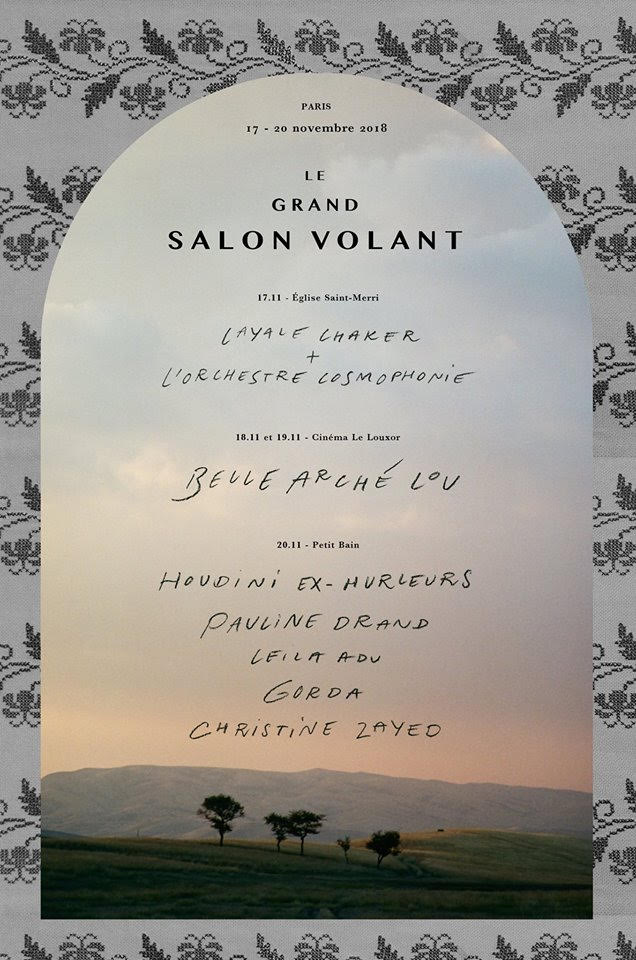 friday 1 june
Lucked In (Kwame Write, Black Rainbow, Alejandro VZE)
Le Zorba
37 rue du Faubourg du Temple
PARIS 75010

thursday 17 may
Leila Adu solo song set
Spinning Coin (Scotland)
Le Zorba
37 rue du Faubourg du Temple
PARIS 75010
sunday 11 march
Makoto Sato, Richard Comte, Leila Adu – IMPROV SET
Espace Japon
PARIS 75010
friday 26 january, 7.30pm
+++++ +++++ +++++ +++++ +++++
CHOPPA FEST 2018
Peter Holzknecht + Zeekos Perakos
Joee & I + Leila Adu
Dirk Stromberg + Georg Wissel
Thomas Lehn + Bani Haykal
saturday 27 january
Amon Wong + Thorsten Vieth
Burkhard Beins + Sudarshan Chandra Kumar + Brian O'Reilly
Siew-Wai Kok + Timothy O'Dwyer
Burkhard Beins + Thomas Lehn + Georg Wissel
Flexible Performance Space, LASALLE
Block F Level 1 #F102
1 McNally Street
SINGAPORE
sunday 7 january, 3pm
BLACK RAINBOW (DJ + Live Set)
Silo Park Summer Sessions
Silo Park, Jellicoe & Beaumont St,
Wynyard Quarter
AUCKLAND
2017
thursday 7 december, 8pm
Leila Adu, Paul Schwingenschlogel, Olivia Scemama, Makoto Sato – IMPROV SET
Bab-Ilo
PARIS 75018
saturday 14 october
O Paradiso
Leila Adu
Brooklyn
NEW YORK
sunday 5 march
Black Rainbow and Her Big Band (music of Nina Simone, Flying Lotus, Marvin Gaye, Courtney Bryan & Sun Ra)
Feat. Black Rainbow keys, Bridget Kelly bass clarinet & Gerard Crewdson trombone, Nell Thomas theramin & Jonny Marks EMS synthi, Riki Gooch drums
Living Wage Stage
NEWTOWN FESTIVAL
WELLINGTON
New Zealand
wednesday 1 march
Forward Music Project
Amanda Gookin plays: "For Edna" by Leila Adu, for cello and voice
National Sawdust
Brooklyn
NEW YORK

tuesday 14 feburary
Valenslime
A romantic evening of noise-games, DJs, and more!
Baby Zionov, Contact Mike, Axes to Grind
Presented by The Doll & DJ Black Rainbow
The Audio Foundation
AUCKLAND
friday 27 january
Rhrr France
improv with guests incl. Leila Adu
Free Theatre
CHRISTCHURCH
NZ
saturday 28 january
Party Of Special Things To Do
Rhrr France
improv with guests incl. Leila Adu
Free Theatre
CHRISTCHURCH
NZ
saturday 17 december
Audio Foundation Xmas Party
Xmas DJ's Ducklingmonster…
visiting performers Steve Beresford, Jonny Marks, Mark Hewins and Leila Adu…
local heroes Kraus and Louise Mahoney, Hermione Johnson and more!
Audio Foundation
AUCKLAND
wednesday 14 december
Steve Beresford
+ Leila Adu improv and Vitamin S krew
Audio Foundation
AUCKLAND
LEILA ADU Love Cells Aotearoa Tour
saturday 4 february
LEILA ADU
Peach Milk
Golden Dawn
134 Ponsonby Rd
AUCKLAND
thursday 2 february
LEILA ADU @ Cindy Sherman Exhibition
City Gallery Wellington
101 Wakefield St
WELLINGTON
saturday 14 january
LEILA ADU
Snails Artist Run Space
101 Taonui Street
Palmerston North
saturday 10 december, 9.30pm
LEILA ADU Love Cells Tour with
STEF T
Darkroom
336 St Asaph St.
Christchurch
New Zealand
/// THE MIZ'RIES COMPLETE CONTROL OF YOUR VEHICLE EP RELEASE SHOWS ///
Leila Adu (vox/synth drum), Quinn Collins (turntable) & Jeff Snyder (Snyderphonics analog synth)
sunday november 2, 12 noon
UNRULY SOUNDS FESTIVAL
Leila Adu
The Miz'Ries
+ Many more…
Hinds Plaza, Princeton Public Library
Princeton, NJ
sunday september 25, 8pm
The Miz'Ries Complete Control Of Your Vehicle EP New York Release Show
with
Crosslegged &
Leila Adu
C'Mon Everybody
New York
325 Franklin Ave, Brooklyn, New York 11238 Subway: Bedford Nostrand G train
Tickets: $8 Advance; $10 Door
saturdday september 17, 9pm
The Miz'Ries Live Show and WPRB Radio Broadcast
with
Dälek
/// LOVE CELLS EP RELEASE TOUR ///
jeuves 8 septiembre, 9:00
LEILA ADÚ con PARTIDO FUNDAMENTALISTA DEL SONIDO (Misha Marks, Carlos Alegre, y hospite Alfonso Muñoz) y TAYHANA (NAAFI, HEIDRAH)
Cine Tonalá
Tonalá #261, Col. Roma Sur
Mexico City
viernes 26 agosto, 9:30
Concierto De LEILA ADU
PEZ Oaxaca
Pino Suarez
Oaxaca City
Mexico
viernes 12 agosto, 7:00
Garcia Vigil 613
El FOCO ROJO
Oaxaca City
Mexico
jueves 4 agosto, 8:00
CONCIERTO TRIPLE
-HUM de Taku Sugimoto
-PARTIDO FUNDAMENTALISTA DEL SONIDO
Leila Adu, Jacob Wick, Misha Marks, Carlos Alegre
-Gudinni Cortina
Espectro Electromagnético
Garcia Icazbalceta 31
Col San Rafael
Ciudad de Mexico
viernes 22 de julio, 9.30pm
Leila Adu — songs & improvisations
Misha Marks
@ Bucareli 69
Bucareli 69
Colonia Juarez
Ciudad de Mexico
sabado july 16, 8:30pm (time tbc)
Leila Adu — songs
Ivan Bringas
@ Jazzorca
Av. Municipio Libre 35
Ciudad de Mexico
domingo 10 de julio, 7:30pm
Terrazza Mostruo : IMPRO 4
Banda de chicachilangos neozelayorkinos:
Leila Adu (improv), teclado y voz/ Jacob Wick, trompeta / Misha Marks, latarra y trombón / Carlos Alegre, violín de triplay
La Perrera Municipal:
Felipe Peralta, trombón / Fernando Herrera, bataca
@ Revilagegido 96
Colonio Centro
Ciudad de Mexico
wednesday June 29, 7pm
LOVE CELLS EP Release Show with Nico Turner & O PARADISO
at NATIONAL SAWDUST
New York
saturday june 18
Carlsbad Music Festival Village Walk
Carlsbad, California
thursday june 16
Air 11
Fairfax btw Oakwood & Beverly
Los Angeles
////
thursday june 9 – sun june 12
OJAI FESTIVAL
friday june 10, 10:30-11:30pm | Libbey Bowl
Free Late Night Ojai Extra
LEILA ADU: Songs & Improvisations
Leila Adu, voice and piano
saturday june 11 9-10:00am
Morning Ojai Extra
** Series Subscriber Event **
LEILA ADU: "if the stars align…" (string quartet)
Calder Quartet
Zalk Theater
Besant Hill School
8585 Ojai Santa Paula Rd
Ojai
3-4:15pm
The Mystic Hour II
CAROLINE SHAW: Don't Let Me Be Lonely (Commissioned by the Ojai Music Festival) – World Premiere
Text: Claudia Rankine
ICE | Roomful of Teeth
LEILA ADU: "Alyssum" (string quartet + harp composition)
Calder Quartet | Bridget Kibbey, harp
DU YUN: An Empty Garlic for bass flute, electronics, and tam tam
Claire Chase, bass flute and tam tam
Libby Bowl
Ojai,
California
sunday june 12, 6-8:30pm |
Free Street Party Concert
Dina El Wedidi and Band | ICE | Aruna Sairam | Roomful of Teeth | Leila Adu
Additional artists TBA
Main Street
Santa Paula
California
////
May 29
MagnaMagna
Viterbo, Italy
sunday may 28
Mojo Blues Station Festival
Rome, Italy
saturday may 27
The Scaledown
The King and Queen
Fitzrovia
London
(canceled by venue)
thursday 25 London,
Live Recording at Briggs Warehouse
London
friday may 13, 7pm
Q2 Music Presents Peter Sellars
with Ojai Festival artists:
Leila Adu
Julia Bullock and John Arida
The Greene Space
44 Charlton Street, New York, NY
(corner of Varick Street)
wednesday april 8
K A T E S perform "Two Voices," music composed by Leila Adu
Switchboard Music Festival
Center for New Music
55 Taylor Street
San Francisco
friday march 25
Scary Love Monster EP Release Show
Leila Adu
Nico Turner
Friday, March 25, 2016 at 7pm
CAKE SHOP
152 Ludlow Street
New York
thursday march 24
K A T E S perform "Two Voices," music composed by Leila Adu
Firehouse Space
246 Frost Street, Brooklyn
New York
thursday january 11,
Speaker at Webstock
"A Jewelled Net": Music, Mindfulness, People, Planet!
St James Theatre
77/87 Courtenay Place
Wellington
sunday january 24
Fire! Festival
www.audiofoundation.org.nz
Waiatarua Community Hall
911 West Coast Rd
Auckland
monday october 19
FILM FORUM MONDAYS at 7.30pm
The Miz'Ries play a live soundscape to Charlie Chaplin's "Modern Times"
[Adu (vocal FX, drumpad), Collins (turntable FX), Snyder (analog synth)] James M. Stewart '32 Theater
185 Nassau St
Princeton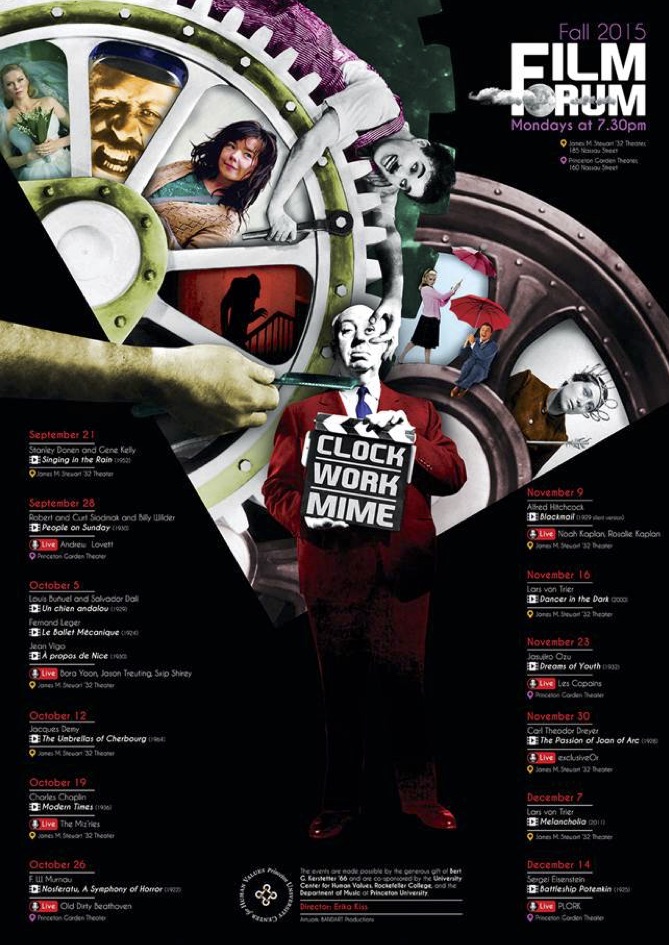 MUSIC MATTERS FESTIVAL, Columbo, Sri Lanka
saturday 15 august, 8pm
Main Stage Day 2, Line up:
Line up:
- Leila Adu (+ Sum Suraweera, drums, Issac Smith, bass)
- Mix Master Blong – Amila Sandaruwan, Isuru Kumarasinghe, Sarani Perera, Uvindu Perera, Harshan Gallage
- Magic Love Mirrors – Isaac Smith, Kei Watanabe
- Isuru Kumarasinghe, Darren Moore, Miako Klein
- Xu Feng, Isaac Smith, Sumudi Suraweera
- Sarani Perera, Leila Adu, Harshan Gallage
friday 14 august, 8pm
Main Stage Day 1, Line up:
- Povel Widestrand
- Musicmatters Students
- Brahminy Kites
- Musicmatters Transcoastal Collective
- Shangyin Trio
- Leila Adu (+ Sum Suraweera, drums, Issac Smith, bass)
- Clayton Thomas
- Larry T-hill
- Amila Sandaruwan
- Sakvala Chakraya
thursday 13 august, 8pm
Experimental Night
- Mix Master Blong – Amila Sandaruwan, Isuru Kumarasinghe, Sarani Perera, Uvindu Perera, Harshan Gallage
- Magic Love Mirrors – Isaac Smith, Kei Watanabe
- Isuru Kumarasinghe, Darren Moore, Miako Klein
- Xu Feng, Isaac Smith, Sumudi Suraweera
- Sarani Perera, Leila Adu,
Goehthe Institute
Columbo
Sri Lanka
saturday 20 june, 2015 7.30pm
Leila Adu will sing her own composition as soloist with Orchestra Wellington, as part of their 2015 Season
Adu 'Blessings as Rain Fall'
Prokofiev 'Piano Concerto No. 3′
Tchaikovsky 'Symphony No. 2′
–Leila Adu Vocals
–Michael Houstoun Piano
–Marc Taddei Conductor
Michael Fowler Centre
Wellington
New Zealand
/// Album Release Tour with Useful Chamber //
Leila will perform her compositions for voice and large chamber ensemble to support Useful Chamber's CD release, 'Dream Within A Dream:' Friday March 13 evening concert, Hart, MI and Marc 15, matinee concert, Kalamazoo, MI. More details coming soon!
///
saturday february 21
LEILA ADU
O PARADISO + special guests
@Standard Toykraft
722 Metropolitan Avenue,
Brooklyn, NY 11211
/// west coast solo tour ///
friday, september 12, 9pm
LEILA ADU
NICO TURNER
Peace Yoga
903 South Maine Street
Downtown Los Angeles
saturday, september 6, 6pm
Songbird Presents Early and Late Show -
***EARLY Show: 6-9:30
TELL Hour – Featuring Jen Burke Anderson, Deborah Steinberg, Lauren Wheeler, Kevin Munroe and Linda Robertson
7 pm – Leila Adu
7:30 pm – The Wyatt Act
8:30 pm – Inner Ear Brigade
Sliding Scale $8-$10
***LATE Show: 10:00 pm to Close
Banda Sin Nombre
DJ Sets throughout the night by Msk.fm
Sliding Scale $8-$10
@Amnesia
853 Valencia St
San Francisco, CA 94110
monday september 1, 8pm
LEILA ADU
KATE OLSON https://soundcloud.com/kateplayssax
SOMESURPRISES https://soundcloud.com/somesurprises
UNKNOWN ROCKSTAR http://postmoderncore.com/albums/another-year-older-and-deeper-in
Hollow Earth Radio
2018 E Union St # A,
Seattle 98122
wednesday august 20, 7pm
LEILA ADU
LA FLAMENCO NEGRA
Republic Bar and Grill
Oxford St, Osu
Accra
Ghana
monday september 1, 8.00pm
LEILA ADU
SOMESURPRISES
KATE OLSEN
UNKNOWN ROCKSTAR
Hollow Earth Radio
2018 E Union St # A
Seattle
Washington 98122
Facebook Event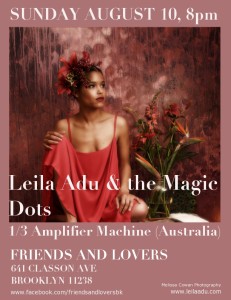 sunday august 10, 7.30pm
LEILA ADU
1/3 AMPLIFIER MACHINE
Friends and Lovers
641 Classon Ave
Brooklyn, NY11238
Facebook Event
ADVANCE TICKETS


///wednesday jun 25, 10pm
BELTS AND WHISTLES TAPE LABEL LAUNCH PARTY: The Miz'Ries "Emotional Performance Motorcycle" album
The Miz'Ries are: Jeff Snyder, Leila Adu & Quinn Collins
with Special Guests:
BABL +
Tristan Shepherd and Michael Foster Duo
Cameo
93 N6 Street
Williamsburg, Brooklyn
New York
///Leila Adu sings backing with Luscious Jackson///
Sat Jun 7
Paradise
Boston
Sat 31 May
The Independant
Fri 30 May
El Rey
LA
///
Tues May 13
Princeton Sound Kitchen
DECODA CONCERT
Princeton Composers:
Elliot Cole
Gilad Cohen
Cenk Ergun
David Molk
Leila Adu sings her composition 'Freedom Suite' with DeCoda: large chamber ensemble
Taplin Fine Hall
Princeton Universty
///Leila Adu sings with Lord Echo on Japan Tour///
Fri April 4 Tokyo
Sat April 5 Nigata
Sun Aprli 6 Kyoto
///friday april 25
The Miz'Ries Jeff Snyder/Leila Adu/Quinn Collins
Red Room
Philadelphia
friday April 18
O Paradiso
Leila Adu
Simone Kearney
Prism House
Cameo
93 N6 Street
Williamsburg, Brooklyn
New York
/// Japan Tour with Lord Echo ///
4-6 March: Tokyo/Nigata/Osaka
/// Aotearoa New Zealand Shows ///
sunday 30 march, matinee show
Leila Adu
Te Manawa Museum ofArt
346 Main Street
Palmerston North
saturday 29 march, 12pm – 6pm
Leila sings with Lord Echo
Silo Sessions Presents Lord Echo & Electric Wire Hustle
Silo Park
Corner of Beaumont and Jellicoe Street
Auckland
thursday 27th March, 7pm
Leila will musically perform Alan Brunton poetry alongside a huge lineup of artists, see details
BEYOND THE OHLALA MOUNTAINS | ALAN BRUNTON | POEMS 1968-2002 | BOOK LAUNCH
Wharekai – Waipapa Marae AK University
16 Wynyard St
Auckland
saturday 15 march, 9pm
Leila Adu
The Darkroom
336 St Asaph St
Christchurch
///
tuesday february 25
The Miz'Ries
Marateck
Wilson Black Box
Princeton University
friday december 20
ZS + Miho Hatori
MV Carbon
The Miz'Ries
DJ Jason P. Grisell
Trans Pecos
Bushwick, New York
friday november 8
Leila Adu
East Bank Music Series
Church of the Ascension
127 Kent Street
Greenpoint
Brooklyn NY 11222
tuesday october 9
Leila sings compositions by Alex Dowling and Amanda Feery
Black Box, Wilson College
Princeton
New Jersey 08544
sunday september 1
BALTIMORE BOREDOM #3
(A EXPERIMENTAL MUSIC NIGHT INSPIRED BY TOKYO BOREDOM)
Visuals and DJ provide by Nippon Motion
S-EXPLODE( FROM SAITAMA JAPAN)
http://s-explode.com/
TIDELAND(VA)
MONTGOMERY DRIVE(FL)
THE MIZ'RIES
ECHO HEY HELLO
JEFF CAREY
IMPATIENCE MACHINE
7$
7PM DOORS
8PM FIRST BAND
Club K
2101 Maryland Avenue
Baltimore
wednesday august 28
The Miz'Ries (Leila Adu-synth drum/vox, Quinn Collins-turntable & Jeff Snyder-analog synth)
Jessie Marino
Spirograph Agnew
Jack Space
Clinton Hill
New York
monday july 15, 7.30pm
The Miz'Ries (Leila Adu-synth drum/vox, Quinn Collins-turntable & Jeff Snyder-analog synth)
@ZirZamin
90 W. Houston Street
New York
saturday may 12
Bill Direen
Hamish Kilgour
Leila Adu
@ The Cakeshop
152 Ludlow Street
New York, NY 10002
friday may 11
Bill Direen
Hamish Kilgour
Leila Adu
@ Kung Fu Necktie
1250 N Front St
Philadelphia, PA 19122
saturday april 13
Hamish Kilgour + Leila Adu
@Ding Dong Lounge
929 Columbus Ave
Upper West Side
New York, NY 10025
monday march 18
The Miz'Ries (Leila Adu/Jeff Snyder/Quinn Collins)
@ Public Assembly
70 North 6th Street
Brooklyn, NY 11211
/// RESIDENCY @ PIANOS NYC ///
wednesday September 5 – 8 pm
wednesday September 12 – 9pm
wednesday September 19 – 9 pm
Pianos
158 Ludlow Street
Lower East Side
NEW YORK
tuesday august 14, 9pm
Day Eye
Leila Adu
Artanker Convoy
Anthony Coleman
Zebulon
258 Wythe Avenue
Brooklyn
New York 11211
thursday june 28, 8pm
Invader Music Video Special
Murkage + Leila Adu + Golden Rabbit + Mademoiselle Mademoiselle
The Book Club
100 Leonard Street, EC2A 4RH
LONDON
thursday may 10, 7pm
Pianos
158 Ludlow Street
NEW YORK
wednesday may 2, 8pm
Leila Adu sings original Song Cycle for/with So Percussion
Taplin Auditorium in Fine Hall
PRINCETON
/////
LEILA ADU is M.C. BLACK RAINBOW with LORD ECHO
The Black Seeds NZ Tour
30 may, 2012
Altitude
HAMILTON
27 may, 2012
School of Music
NELSON
26 may, 2012
The Bedford
CHRISTCHURCH
25 may, 2012
Lake Wanaka Centre
WANAKA
24 may, 2012
Sammy's
DUNEDIN
/////
friday april 6, 2012
8pm | ALL AGES
Hive Dwellers (unamplified acoustic band from CALVIN JOHNSON)
Leila Adu with Hamish Kilgour (of THE CLEAN)
Katie Eastburn (x Young People)
959 Broadway @ Myrtle Ave | Bushwick, Brooklyn
JMZ – Myrtle Ave, G-Myrtle-Willoughby
friday march 30, 2012
Doors: 10:30 pm
Mercury Lounge
217 E Houston St.
New York, NY, 10002
wednesday february 29, 8pm
KIWIS IN NYC
Project Secret Robot
389 Melrose Street
BROOKLYN
NEW YORK 11237
saturday 5 november, 9pm
BENEFIT PARTY
Christ Church Neighbourhood House
20 North American St
PHILADELPHIA
PA 19106
saturday 17 september, 8pm
NOsweetNO
Alberto Fiori + Leila Adu & guests
Arturo Vidich
Katy Gunn
Saurbah Tak
DJ set by Dak
@ The Mothership
252 Green Street, Apt 2L
11222 Greenpoint Brooklyn
NEW YORK
saturday august 27th
'COCTEAU TWINS TRIBUTE'
Life Group
Upsilon Acrux (featuring Barrie Rose)
Magic Johnson
Luis Naranjo and Dani Elowe project
QUeUe (feat. Leila Adu)
Abe Vigoda
Dunes
@ The Smell
247 s main street downtown
LOS ANGELES
friday august 26th
Leila Adu
howardAmb
@Human Resources
410 Cottage Home St in Chinatown, 90012
LOS ANGELES
friday august 19th
'ANTARCTICA'
Alphabethead
The Labcoats
Leila Adu
Riki Gooch
MLKBDGR
@ The San Francisco Bath House
WELLINGTON
THE BIG BUSK – for Child Cancer Foundation
friday 20 may @midday – 3pm
Leila Adu, Barnaby Weir, Louis Baker, Lisa Tomlins, Chris Yeabsley, Eva Prouse, Ryan Prebble, Lucien Johnson, Iva Lamkum, Dan Yeabsley, Nikita Bryant, Trya Keelan, Claire Terry, Mara Simpson, King Homeboy, Toby Laing & Andy Mauafua
Plum Cafe
103 Cuba Street
Wellington
US for THEM – for CHCH Women's Refuge
sunday may 15 @3pm – 7pm
Leila Adu + Trinity Roots + Paddy Bleakley + Urban Dance and Rescue + The Buttercuts
Anzac Hall
Featherston
"Ode to the Unknown Factory Worker" CD Release Tour
LEILA ADU

friday 1st april @ 9.00pm
Leila Adu – solo + Delete! + DJ Soubrother
Happy Bar
Cnr Tory & Vivian Sts
WELLINGTON, NZ
friday 11 march @ 7.30pm
Leila Adu – solo + Lime Headed Dog + Dead Days Beyond Help + Poino
The Windmill
Brixton, SW2 5BZ
LONDON
featuring DE SANTIS (drums)
'Up Close & Intimate' Series
saturday 5 march @ 8:00 PM
Leila Adu
Arch1 Members' Club
Cranberry Lane
West Ham, E16 4PD
LONDON
thursday 3 march @ 8:00 PM
Leila Adu + Otto Fischer solo
The Vortex
11 Gillett Street, Dalston
LONDON
freitag 25 februar @ 21:00
Leila Adu + Mills Projects
Ausland
Lychener Str. 60, D-10437
BERLIN
venerdì 18 febbraio @ 22.00
Leila Adu + Accademia del Danno
Circolo Arci Lebowski
Corso Vittorio Veneto 817
RAGUSA
Italy 97100
giovedì 17 febbraio @ 21:30
Leila Adu
Fanfulla 101 
via Fanfulla da Lodi, 101
ROME
mercoledì 16 febbraio @ 22.00
Leila Adu (solo)
Circolo Caracol
via Battichiodi, 8-10
PISA
friday january 28 @ 9:00 PM
Leila Adu with Orlando Greenhill
The Mezz Bar
501 South Spring Street
Neighborhood
LOS ANGELES
View a list of Leila Adu's previous international performances.