"Leila Adu is a rebel-inspirer. And not in the way that calls for the raising of fists, or the hurling of sharp word-blades. Her defiance is decided… Anger isn't its mother. Wonder may be." — Purple Magazine
Leila Adu's Dark Joan review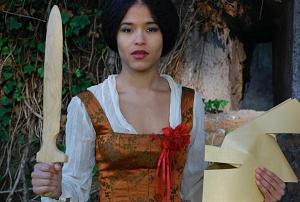 When listening to Leila Adu's "Dark Joan," one word describes the album, "theatrical." At first listen, it sounds like the soundtrack to a sleeper indie film that ends up making it big within the first week of it's release. Singer-Songwriter, Leila Adu reminds me of solo artists such as Nina Simone, Regina Spektor, Bjork and Tori Amos. "Dark Joan" is produced by Steve Albini and for those who aren't aware, he is a veteran producer, journalist and musician. Some of his first notable work is the Chicago Post-Punk/Noise Rock drum machine driven band Big Black, Jon Spencer's Blues Explosion, the Nirvana classic "In Utero" and countless other projects but this is an interesting departure from his recordings in rock. In this case, "Dark Joan" is a stripped down album that's predominately keyboard, Leila's vocals and natural room ambiance. Albini's familiar recording techniques are still heard. For example, the usage of "analog hiss" adds a subtle organic texture giving "Dark Joan" the feeling that you're hearing the album being recorded at that exact moment in front of you.
"Helfire" is the a capella opener that displays Leila Adu's haunting operatic vocals.
I noticed throughout the album that her keyboard technique is about conveying a mood to complement the lyrics. For example, on "Ode to the Unknown Factory Worker" Leila's usage of distorted electric keyboard (possibly a Fender Rhodes or a patch that emulates it) accentuates the subject matter of equality and mutual respect by giving it more of an edge. Her control of dissonance, usage of diminished chords and choice of minor key melodies is quite complementary to lyrics that invoke a certain intensity equally displayed in other compositions such as "Wolfmen," the title track and the haunting anti-individualism number "A Moment of Peace."
Within seven tracks, Leila Adu takes you on an aural journey that most progressive rock albums could only attempt to do. I see this album as a future classic.
"Dark Joan" will be released November 9th, 2009. Pick it up and enjoy the journey.
John M. Ellison IV
S.O.U.L Magazine
"In an almost neoclassical-esque manner, Leila Adu effortlessly carries her listeners through an elegant tapestry of emotion, showing her exceptional talent as a true pioneer with this trance-inducing avant-garde experimental soul EP. "
Much Adu about Joan
LEILA ADU stands triumphant with a wooden sword and a semi-serious stare. It's just a static MySpace picture yet, eerily, the pseudo-historical dress, the intense gaze and curious commentary invest the flat image with an unfathomable third dimension.
It's a fitting portrait. Adu's music is cryptic, edgy, oscillating between serious commentary and flippant experimentation. Her latest album, Dark Joan, is a take on the story of Joan of Arc, who led France to victory in the Hundred Years War through what she described as divine guidance.
There's little in terms of divinity in Adu's title track but it opens with aggressive offence: "Didn't you think I would come back for you all," she sings, to a stormy assault of keys.
She said: "Dark Joan is a tale about an urban Joan of Arc.
"I was living in Brixton at the time when I wrote this song. The inspiration of this song was the popular image of Joan d'Arc superimposed on contemporary urban London.
"However, it isn't a literal representation of her life in any way. The song also has images of strength and battle, both male and female, through art and other means. The end of the song is calls on our internal super-powers of compassion to battle the materialistic energy of these times."
She sings: "Lord why show me angels as a child / Then grow up and make me someone mild? / I can't help you all but I'll do my best / All the shining knights are having a rest."
"I'm tired of looking around and seeing what is around here," Adu says, admitting that her bemusement concerns the frightening abundance of celebrity magazines in a materially-driven society.
The premise is echoed throughout much of the album: "It's about being grateful in these materially-driven times," she says.
That is reflected in the line "No time to waste in your potential in the malls."
She extends her attack on consumerism to the sensation-seeking aspect of British media, referring to its obsession with celebrity drug habits,
"I would be more interested if they wrote about him making home-made cookies, for example," she said, referring to Pete Doherty's well-documented drug habit, "The media make meat out of everyone. He's just a nice sensitive, artistic young guy."
And she would know, she travelled to Moscow with Doherty with the British Council as part of an exchange programme.
This week, Adu brings her broad-ranging folk-pop to Sheffield as part of a UK tour with fellow FRIZZ record artist Art Terry. The tour also celebrates the release of Dark Joan, her first official international release.
"All my other records have been self-released," she says.
The album's hard to categorise but whets every appetite from brooding pop to abstract electro. Songs sway between lo-fo slow trip hop with electronica undertones – as in the mellow track Answerphone – and rich piano-led melodies.
Such contrast reflects Adu's musical background – the London-born, New Zealand-bred singer songwriter has appeared with the New Zealand Symphony Orchestra and is in the process of composing an electronic arrangement for a chamber group.
"With the chamber music I have to write the music down and then put it into a software notation programme."
Review: Leila Adu – "Dark Joan" — URB ALT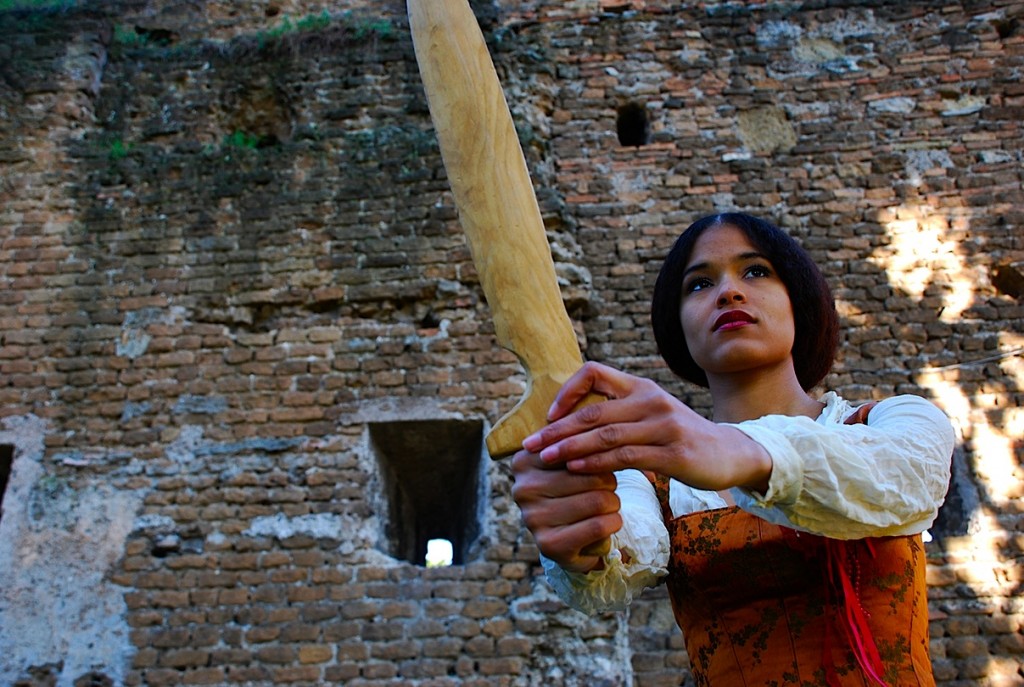 Hel. Daughter of Loki. Queen of the Underworld. Under the headphones you can feel her seductively walking towards you.
Leila Adu's ambitious solo album "Dark Joan" opens with "Helfire" an a cappella song showcasing the multi-octave artist bellowing like an angry town crier warning listeners away from a life of apathy and greed. It is a very dramatic entre to the London born and New Zealand bred Adu's powerful third album. Produced with analog warmth by Steve Albini, the legendarily principled producer of PJ Harvey, Nirvana and Helmet et. al, "Dark Joan" exists in some dark yet playful purgatory between jazz, rock, classical and pop. Armed simply throughout the rest of the album with a supple voice, sharpened lyrical sword and various pianos/organs, Adu's "Helfire" serves as a fascinating harbinger of the many musical challenges to come.
i.e.
"Ode to the Unknown Factory Worker" storms in with piercing organ stabs alluding to the rhythms of industrial machines cranking away. The sound of the organ dangerously distorting while Adu sings "Still got my teeth and my 9 pairs of shoes" adds just enough edge to let one know that despite the minimalist instrumentation this will not be a Yanni experience. The song is anti-materialist but Adu is no rosey idealist as she questions her connection to the common man by punctuating each passage with a sarcastic "Oh, am I torturing you?"
"Moment of Peace" is a quirky meditation on surrendering to technology. A gently unfolding chord progression allows Adu to reflect on the greener pastures of her birth while whispering "ego is causing me pain/allow me one moment to forget my name." Before the silence can be claimed the piano explodes into a paranoid loop where she mutters in a detached monotone voice "Please press one" multiple times. "Moment of Peace" is somewhat cynical, yes, but really is there anyone out there who disagrees with Adu's belief that automated answering machines suck?
"Dark Joan" appropriates the heroic persona of Joan of Arc as divine inspiration to fight for the rights of the innocent and abandoned among us. A frantically repetitive harpsichord figure opens the song navigated by Adu casually chanting "I'll go by myself if I have to." The social commentary becomes more pronounced as she pounds blocks of dissonant chords in counterpoint to the established pattern. This section of the song is accented by the provocative lyrics "I can fight with needle and a thread/Words and voices impaling your head/All the King's horses and all the King's men/without love in your heart/your finery won't defend your soul." Shortly after declaring that there is "no time to waste your potential at the mall" Adu chooses to multi-track her vocals until they are a wailing army of mythological Sirens luring the greedy haplessly to their death at sea. Yeah, I'm reaching for imagery but I dug the title track a lot, dadgummit.
"Wolfmen" is by far the most aggressively rhythmic song on the album. The way Adu attacks the keyboard would make Little Richard scream "Shut Up!" with a gleeful smile on his face. Indeed, "Wolfmen" fairly catches the spirit in its connection to the primordial origins of rock n roll. Yet the song is not a pop throwaway at all as evidenced by the lyrics "Houses burning/my feet are not/My skirts are burning/my feet are not/My world is churning/My butter is not." The lyrics impart that the advances of Western Civilization have so unraveled the fabric of our lives with construction, technology and big media that we are due for a purging of sorts. The purging officially begins at the 1:54 mark when Adu opens the music up into an ambient piano wash. Her resplendent soprano delivery of the line "A love that never dies" during this passage of "Wolfmen" ties her to the wonderful vocal legacies of Josephine Baker, Arooh Lemeen, Rosemary Clooney, Ella Fitzgerald and Roy Orbison. Adu's phrasing here is THE MOMENT that makes "Dark Joan" as a collection of songs magical for me.
"Stop Me Now" feels like a steady climb up the side of a mountain covered in sheets of glass. It doesn't so much move forward as it slides through the changes until it climaxes with the solemn words "doesn't seem fair to leave/when I can still remember."
The sublime ballad "Naïve" closes the album elegantly by declaring that no matter our circumstances we are never truly alone or damned to our current status. The words delicately capture the tenuous dance between love and forgiveness by stating "We are naïve to believe/we can love only one./How can creation be captured/in only one hand?" "Naive" is a beautifully melodic and soulful showcase for Adu's command of subtle operatic vocal techniques and emotive piano playing. It is also easily my favorite song on the album due to it's enduring simplicity.
My musical tastes have always inclined towards compositions that start one way and evolve into an entirely different vibration by songs end. Leila Adu has filled "Dark Joan" with several dark gems that will reward the expectations of the patient listener. It tickles me to imagine Steve Albini's reactions to her penchant for tossing aside formulaic pop music rules. No matter how far afield Adu goes, however, there is an internal logic and sense of humor in place that errs on the side of hummable melodies. Her work practically begs to be engaged in a live hall setting with Pilobolus movement artists, Takayuki Fujimoto theatrical lighting, Shirin Neshat video imagery and a banging libretto.
Helfire on Broadway or at The Met anyone?
R
"Del talento enorme di Leila Adu si sa già… Che sia Ode to the Unknown Factory Worker a evocare Nina Simone, piuttosto che la quiescenza jazz di A Moment of Peace e Naive ad ammaliare l'ascolto, poco conta." — CDs of the Week, The Manifesto Newspaper
In Italiano
"Ha un viso dolce e l'ugola roca…ha già un curriculum di tutto rispetto: ha inciso tre dischi in studio e sta per uscire il quarto, prodotto da Steve Albini, lo stesso che ha lavorato per In utero dei Nirvana. Ha suonato ovunque: New York, Auckland, Roma, Londra…" L'Unione Sarda, Sardinia, Italy, 2009
"Attendiamo solo che esploda la sua notorietà. Perché le carte ci sono tutte e riguardano le capacità vocali e strumentali di questa artista."— Il Popolo Del Blues CD Review