All About Jazz News
Published: 2014-07-18
Belts and Whistles hits Cameo Gallery on Wednesday July 23 at 10pm for their joint label launch and album release party. The Brooklyn and NJ based electronic and improvised tape cassette label drops its first album, Emotional Performance Motorcycle, from The Miz'Ries.
Electro-kraut digital hardcore supergroup, The Miz'Ries: uber-americo noise nerd Quinn Collins plays broken records on a turntable with crazy effects, mad genius inventor Jeff Snyder plays his own analog synth creation whilst Neuseelander songstress Leila Adu sings and plays electronic drum pads. The Miz'Ries have been described as "a noise band that plays 3-minute pop songs", and as "the music that plays in the club the bad guys hang out in".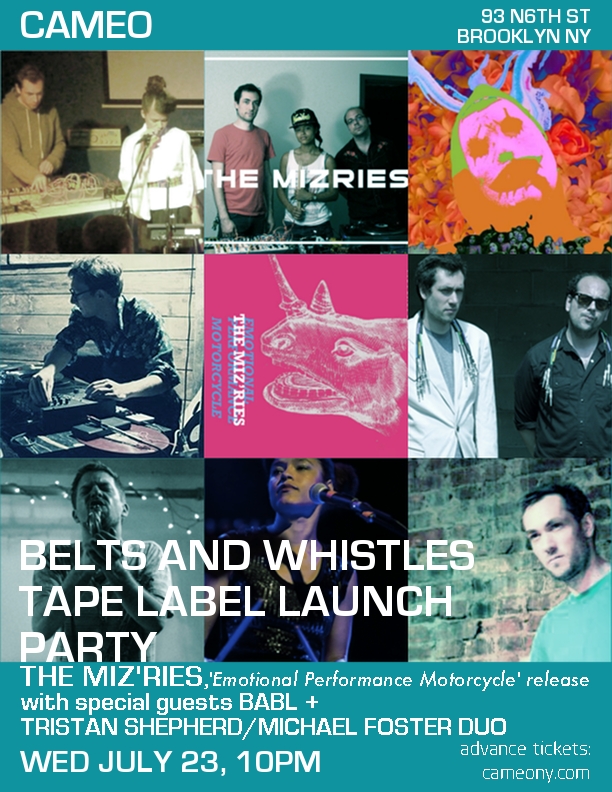 Over the past year — singer, multi-instrumentalist, composer, improvisor and Miz'Ries' member — Leila Adu has toured New Zealand, Japan and featured in Spin Magazine with Lord Echo aired backing vocals and percussion with popular 90′s alt-rock band and Beastie Boys' labelmates, Luscious Jackson, on MTV VH1 and Late Night with David Letterman. Leila previously won MTV Iggy's Artist of the Week, is this year's Orchestra Wellington's (New Zealand) Emerging-Composer-in-Residence and recorded albums with Steve Albini and for the Italian National Radio. As founder and lead designer of Snyderphonics, Jeff Snyder designs and builds unusual electronic musical instruments including the Manta, which is played by over 150 musicians around the world; the JD-1 Keyboard/Sequencer, which was commissioned as a specialty controller for Buchla synthesizers; and the custom analog modular synthesizer on which he performs in The Miz'Ries. He frontsOwen Lake and the Tragic Loves as his electro-country alter-ego. The Miz'Ries turntablist, Quinn Collins is a composer of acoustic and electroacoustic music combining rigorous formal processes with rock energy. His music has been performed by ensembles such as the orkest "de ereprijs," members of Bang on a Can, TRANSIT, Cadillac Moon Ensemble, Loadbang and TV Buddha.
Brooklyn based, Tristan Shepherd/Michael Foster Duo kick off the night. Composer, improviser and turntablist from Dearborn, MI, Tristan Shepherd most recently, curated "Incidental Music", an exhibition of site specific installations and performances at the Fragmental Museum's project space: a 4 story, 50,000 sq. ft. former zipper factory and has performed at Roulette, MoMA PS1 and the Whitney Museum of American Art. In this pairing, multi-instrumentalist, Michael Foster, plays sax and amplified small objects. Foster works within the fields of free improvisation, composition, noise, punk, and industrial music and video, with gigs and tours with Weasel Walter, Steve Swell, Pascal Niggenkemper, Psychic TV, Airway, Chris Corsano, Spiritualized, Kid Millions, Nate Wooley, Sean Ali, Han Bennink, Marina Rosenfeld. Foster divides his time between Amsterdam and New York. Recent live performances include Michael Foster Live at Smokey Bear Cave on Youtube and Tristan Shepherd Live at the Control Room on Vimeo.
The Cameo Gallery evening ends in a dance party from BABL: a man whose voice box is running on prosthetic peripherals, a man who has outsourced his memory for unprecedented processing power. BABL is a song and a dance calibrated for optimal lumbar gyrational support and skeletal-rhythmic synchronization. He is influenced by the likes of John Zorn, Rahsaan Roland Kirk, Pharaoh Sanders, Pharoah Monch, Shostakovich, D'Angelo, Flying Lotus, James Blake, and Bach and has played at The Stone, Carnegie Hall, Lincon Center Out of Doors.
Go into the draw to catch all three acts for free: :WIN A PAIR OF TICKETS at gimmi.io for the joint Tape Release Party for The Miz'Ries and Belts and Whistles Label Launch Party.
Cameo
93 N 6TH ST
Williamsburg, Brooklyn
WED JULY 23
DOORS: 10PM, $8
Visit Website | Purchase
Related Video