Leila Adu received a (PIIRS) Princeton Institute of International and Regional Studies grant towards a visit to Accra, Ghana, for her PhD research on electronic music and hip-hop producers. Leila's father is London-based a Ghanaian poet, playwright and musician and she is keen to reconnect with her culture on her first visit in fifteen years.
On her stay, Leila is also playing at Republic Bar and Grill, a hotbed of culture for local Ghanaians, many of whom have returned from living abroad, as well as expats. (Read more about Republic's contemporary take on Ghanaian food in this Guardian article A foodie revolution cooking in West Africa).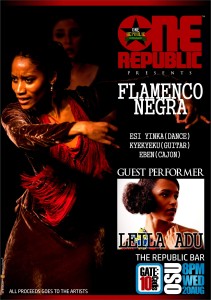 Republic has weekly live performances on Wednesdays curated by Omon Blanks, as well as DJs at the weekend, curated by, Akwaaba Music's Benjamin Le Brave. French/American, Le Brave founded Akwaaba Music in San Francisco, and moved the label to Accra three years ago; Akwaaba ("welcome" in Ashanti Twi) is dedicated to making African music easier to access worldwide through releasing, distributing, licensing and growing an online presence in a way that is fair for the artists.
Leila is collaborating with Accra artists and has recorded two tracks at 2 1 Entertainment with Ghanaian poet, Kwame Write.