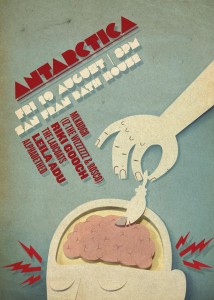 10 August 2011- For Immediate Release:
Antarctica, Friday, August 19, San Francisco Bath House, $15 presale ($20 on the door)
featuring: Leila Adu, Riki Gooch, Alphabethead & The Labcoats
w/ selections from the MLKBDGR crates. Tickets – Under the Radar
Antarctica – that wide, white space, a place where the imagination is free to roam. You will be taken to the musical equivalent of a place like that: Leila Adu, Riki Gooch, Alphabethead, The Labcoats and MLKBDGR have the staple secret. They can take you there.
These are artists-as-explorers. This is sonic excavation. Something you can really dig.
Leila Adu is readying her fifth album – she's fresh from winning MTV Iggy's Artist of the Week and has returned to New Zealand from her American home-base to tour and record. In recent years she has wowed audiences across Europe and America. She has performed improvised and composed pieces, as a solo artist, in small combos and with larger ensembles – she has two tracks featured on the upcoming album from Italian electronica act, MDF. Leila writes songs that are tiny but bold; huge but obtainable. She is a unique voice as writer and composer; she'll take you to an aural Antarctica – a place of infinite discovery.
Media Relations/Hi-Res Images

Riki Gooch has produced solo singers, backed folk-pop players; he masterminded the Eru Dangerspiel big band and has played with a couple of other bands you might have heard of. Is he Wellington's own Moondog? Or is he the Capital City's Fela Kuti? Riki has created soundscapes across electronica and dub; he sits inside the beat while living further beyond the fringe. He has a heavy metal bebop inside him that pulses deep. For this performance Gooch will be performing his Cave Circles EPs with video artists Toby and Melissa Donald. And Ant Donaldson will be on stage with Riki. They'll take you to an aural Antarctica – a place you have never been before.
Alphabethead is a wizard of the turntables – a composer who places found sounds in surprising new contexts. He takes tunes you think you've heard before and makes tunes you'll never hear again. He charts his own path through almost every genre. With Alphabethead it's always a fresh journey through the past to the future. He can take you to an aural Antarctica – he's a sonic navigator.
The Labcoats is an improvising collective that knows how to uncover a buried groove. They have science at their fingertips and wear their art on their sleeves. No turn will be left unstoned in the search for a new jazz; a new way to groove – a new set of moves. The Labcoats will lay you out like patience itself has been etherized and feeling stable. They'll take you to an aural Antarctica – they may just build you a brand new one.
MLKBDGR – will be providing the glue; the invisible threads that stitch the spaces together between these vibrant acts. MLKBDGR will take you to an aural Antarctica – he'll steal one for you; he'll slip it to you quickly.
RG "A humble, yet incredibly talented maestro showing us the way forward." –3 Network News
AH "Alphabethead amazed and dazzled with his rapid and accurate hand work, sliding effortlessly from turntables to sliders to switches and balance – no wonder he won – this is a man possessed." – Melbourne 'In The Mix Awards'
LA "This young New Zealander of Ghanaian descent treats genre distinctions in much the same way that Godzilla treated those little cities made out of cardboard." –MTV Iggy
Antarctica artists are available for interviews at: point 3 recurring and leilaadu.com
Tickets – Under the Radar