June 21, 2012 in All, Featured, News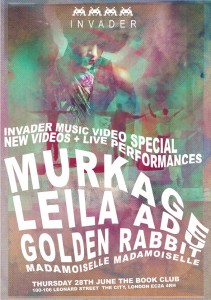 Next level UK Hip Hop chart success Murkage is a late addition to the Invader Music Video Special next week at the The Book Club in Shoreditch and if you're new to them you can check out the recent Guardian article, Behind the music: Political music tries to break down barriers – on the streets and on the radio. The event is free and features Live performances and Video playbacks by: Murkage, Leila Adu, Golden Rabbit, Mademoiselle Mademoiselle.
Award-winning video director Alyx Duncan is a kiwi to keep your eyes on; her new feature film The Red House is out on the international Film Festival circuit this year and her production of Leila Adu's video single 'Bluebeards and Monsters' will be screened at the Invader Music Video Special on Thursday as a world première.
Thursday 28 June
8PM
Invader Music Video Special
Murkage + Leila Adu + Golden Rabbit + Mademoiselle Mademoiselle
The Book Club
100 Leonard St
Shoreditch
London
FREE ENTRY
Invader Music Video Special FACEBOOK EVENT: https://www.facebook.com/events/473006169392888/