September 4, 2012 in All, Featured, News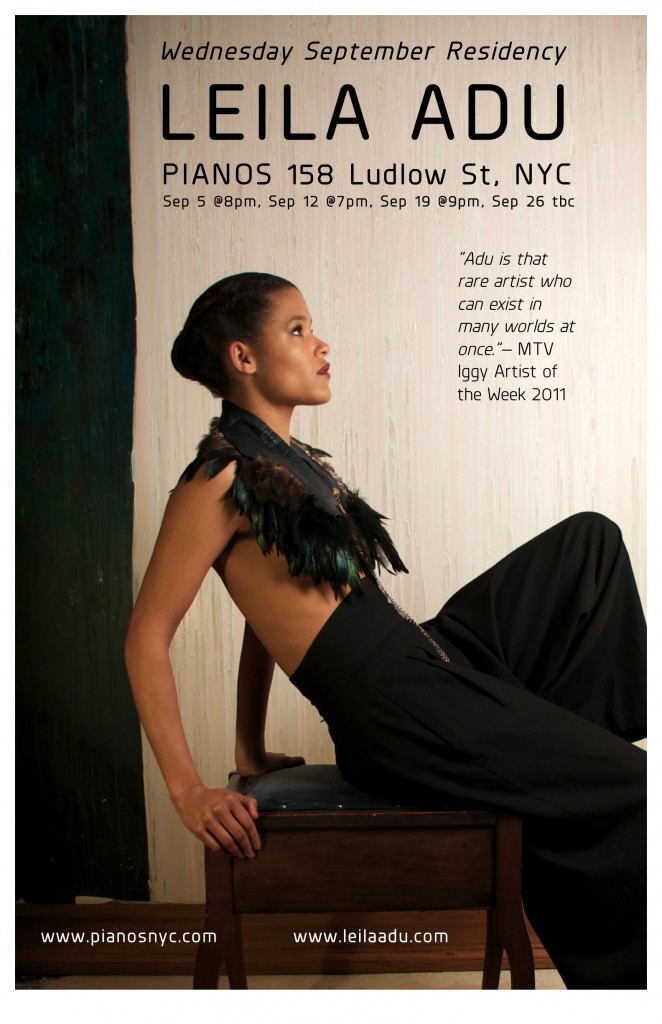 At Pianos, Leila will play songs from her unreleased fifth album that takes a new direction into Avantronica, replacing her acoustic sound for layers of organ and vintage synth backing in Ableton. The live set is a duo of Leila's vocals, synth and piano with New York based Italian drummer, Federico Ughi. The duo met in Rome as Federico divides his time between New York and international tours with legends such as Daniel Carter, William Parker and spends time playing with Ornette Coleman.
Leila is currently writing for the New Jersey Symphony Orchestra's readings. Her latest recordings have offers from vinyl and electronica labels in London and abroad. Leila's new music video "Bluebeards and Monsters" was recently produced in by New Zealand by film director, Alyx Duncan and is soon to be released.
LEILA ADU' SEPTEMBER RESIDENCY AT PIANOS, NYC
158 Ludlow Street, NY 10002
Wednesday September 5th at 8pm,
Wednesday September 12th at 7pm,
& Wednesday September 19th at 9pm
Facebook Event: https://www.facebook.com/events/414381548608968/
Price: $10 — Advance Tickets available @ www.ticketweb.com
Details: www.pianosnyc.com & www.leilaadu.com